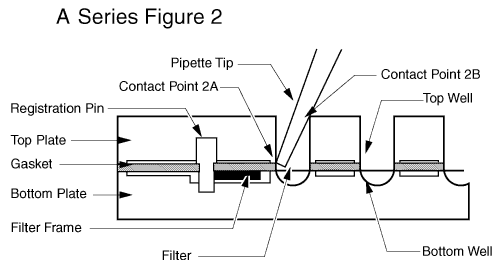 How was the neutrophil chemotaxis assay conducted?
Chemotaxis Assay.
Edit
"Chemotaxis was performed in a 48-well microchamber (Neuro Probe) using a 5-μm-pore polycarbonate membrane. Neutrophils (1 × 106 cells/mL) were allowed to migrate toward CXCL2 (30 ng/mL) or medium alone at 37 °C with 5% CO2. After 1 h, the membrane was removed, fixed, and stained. Neutrophils that migrated through the membrane were counted under a light microscope on at least 5 randomly selected fields." From Alves-Filho et al. (2009)
A very detailed protocol to set up the plate and apply the samples can be found at http://www.neuroprobe.com/protocols/A-series.html
Suggested Reading
Edit
Falk, Goodwin, and Leonard. "A 48 Well Micro Chemotaxis Assembly for Rapid and Accurate Measurement of Leukocyte Migration." 1980, Journal of Immunological Methods, 33, 239-247.
Harvath, Falk, and Leonard. "Rapid Quantification of Neutrophil Chemotaxis: Use of a Polyvinylpyrrolidone-free Polycarbonate Membrane in a Multiwell Assembly." 1980, Journal of Immunological Methods, 37, 39-45.
Richards & McCullough A modified microchamber method for chemotaxis and chemokinesis." Immunological communications, Vol. 13, No. 1. (1984), pp. 49-62.
Harvath and Leonard. "Two Neutrophil Populations in Human Blood with Different Chemotactic Activities: Separation and Chemoattractant Binding." 1982, Infection and Immunity, 36 (2), 443-449.